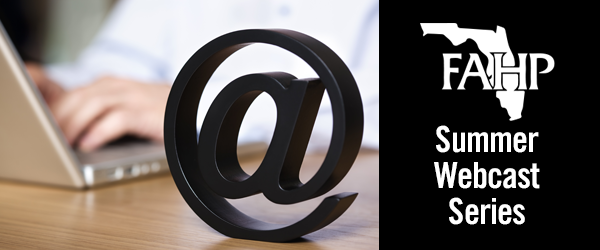 ---
Thursday, July 20 @ 10 am EST
The DecisionDX- Melanoma Test: Identifying early stage melanomas at high risk of metastasis
Addressing a need for a more accurate picture of individual risk, the DecisionDX-Melanoma test was developed to help predict the five-year risk of recurrence based on the biology of a patient's tumor. The test uses a small sample of the melanoma to measure the activity of specific genes found by rigorous studies to be most associated with progression in this cancer. Based on the tumor's "expression" levels- also called "gene expression" profile or signature- the tumor is classified as either Class 1 "low risk" or Class 2 "high risk."
Registration information:
Please join my meeting from your computer, tablet or smartphone.
https://global.gotomeeting.com/join/335580181
You can also dial in using your phone.
United States: +1 (646) 749-3122
Access Code: 335-580-181
Sponsored by:
Castle Biosciences

---
July 25th at 2pm EST
The Value of Claims Data Validation for Accurate Risk Adjustment
Program Summary:
Join our expert as he holds a lively discussion about Claims Data Validation, and how it provides invaluable information regarding your providers and their coding and documentation: are they submitting what they've documented, and documenting what they've submitted?
Our presenter will discuss:
Why every organization should do Claims Data Validation

Meeting the CMS requirements for "looking both ways"

Next steps based on CDV data

Registration Information:
http://go.episource.com/cdv-webinar-fahp-2017
Sponsored by:
Episource
---
Thursday, July 27 @ 2 PM EST
Managing variation in health care: The unique role of risk adjustment
Program Summary:
This webinar will show you how to use risk adjustment to reveal variation- the difference between the quality and utilization rates you can expect (expected rate) and the rates that actually occur (observed rates)- and how that variation impacts your payment rates and performance goals.
You will learn:
- How understanding variability can help you form strategies and tactics to impact outcomes
- What goes into calculating an expected rate
- How expected rates are used to develop budgets and determine key performance indicators (KPIs)
- How to monitor performance against a budget and KPIs so you can unmask variability
Risk adjustment methodologies can tell us a lot about a patient—his or her level of risk, total illness burden, level of resource consumption, and much more. Risk adjustment is a critical tool in value-based contracting because it helps us understand variability

Understanding variability helps you set performance goals and design payment programs that providers and payers mutually accept because they accurately account for a provider or system's unique circumstances. A 20% reduction in readmissions may be an appropriate target for one provider, but unreasonable for another. Setting just-right quality and financial goals is the linchpin of successful value- or risk-based contracts.

Whether you are analyzing individual PCPs, comparing systems within a defined network, or measuring the performance of accountable care organizations, understanding variability will guide you towards improving health care value.
The session includes a 45-minute presentation and a 15-minute Q&A session that will give you a chance to pose questions to Dr. L. Gordon Moore and Erika Johnson.
Registration information:
3M Health Information Systems
---
Tuesday, August 3 @10 AM EST
Finding the Formula for Drug Savings: the Role of Pharmacy Benefit Managers in the Health Care System.
Program summary:
Pharmacy Benefit Managers (PBMs) are critical to the delivery of high-quality, cost-effective healthcare. PBMs long been recognized for their ability to create savings through providing clinical utilization management programs, offering more affordable pharmacy channels, negotiating discounts with drug manufacturers and retail drugstores, and encouraging the use of low cost generics and affordable brands. In today's marketplace, the increased drug spend and utilization of high-cost specialty medications are creating an even greater need for the comprehensive services offered exclusively by PBMs.
Over the past decade, prescription drug expenditures have grown faster than any other healthcare category and represent an increasing percentage of per capita health spending. This presentation will provide an overview of PBM tools and strategies that enable patients to receive the maximum benefit from their medications, while creating a sustainable pharmacy benefit that reduces waste in the healthcare system.
Registration information:
URL: https://attendee.gotowebinar.com/register/3334050592100773123
Webinar ID: 231-486-803
Audio
Participants can use their telephone or computer mic & speakers (VoIP).
United States: +1 (631) 992-3221
Access Code: 740-125-657
Sponsored By:
Pharmaceutical Care Management Association (PCMA)

---
Tentative: Thursday, August 17, 2017; 2 PM EST
Rules for Managing your Home Care Provider Population Risk

Program Summary:
Home care services have the potential to reduce overall healthcare industry costs while simultaneously providing comfortable care for the most vulnerable of Americans. According to the Centers for Medicare and Medicaid Studies, home care spending for health, residential and personal care services reached $150.4 billion in 2014, just five percent of the $3 trillion national healthcare budget. But with more seniors preferring home care as they age, that number will grow. With it comes a massive network of home care providers that payers will need to manage within a capitated payment or by demonstrating value based care. Home care fraud, waste and abuse is high, and in many states that have moved to a managed care model, home care providers have pushed back on new requirements of them. Payers will therefore need to get creative to manage the risk associated with providing home care services as a benefit to their Medicaid members.
In this webcast, you will take away:
Electronic Visit Verification (EVV) legislation that is driving changes in home care

The Golden Rules for provider adoption statewide

Tips for increasing transparency and streamlining communication to improve quality outcomes

Home care innovations to consider for procurements

Home care performance metrics every payer should monitor

Registration and login information:
http://info.hhaexchange.com/FAHP_GoldenRules
Sponsored by:
HHAeXchange
---
Tuesday, August 22; 2 PM EST
Precision Medicine Education for Payers: Hereditary Cancer Panels


Program Summary:
This webinar will discuss hereditary cancer panel genetic testing addressing common payers' concerns with published data and societal guideline information. The presentation will define hereditary cancer within precision medicine, review a history of the relationship between hereditary cancer and payers, and examine the clinical shift from single syndrome testing to panel testing, all contributing to industry concerns around hereditary cancer panels.
Registration information coming soon
Sponsored by:
---
RAPS to EDPS: Taking Appropriate Next Steps to Safeguard Your Revenue

Program Summary:
Government-regulated health plans are concerned about the impact to risk scores and revenue due to CMS requiring Medicare Advantage plans to dual submit encounters using both RAPS and EDPS. While RAPS has been used for some time and the amount of data CMS requires is nominal, EDPS is much more complicated and the submissions contain extensive data on each encounter.


Our presenter will discuss:
What you need to know for the next phase of this transition

Successful strategies and workflows to avoid revenue issues

How to improve internal processes for error resolution and financial analytics

Tips for prioritizing revenue-impacting errors
Registration and login information:
http://go.episource.com/edps-webinar-fahp-2017
Sponsored by:
Episource